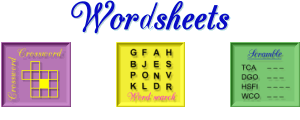 Main
FAQ
Download
Samples
Reviews/Comments
Features
Screen Shots
Purchase
Pricing
License
System Requirements
Information Sheet (pdf)
UPGRADING FROM PUZZLER OR WORDSHEETS 4.2
Registered users of Wordsheets 4.2 can upgrade to Wordsheets 5.5 for only $10. Please contact info@qualint.com for upgrade information.
Between 1995 and early 1998 we sold a previous version called Puzzler. Registered users of puzzler should also email info@qualint.com for more info.
Word lists for Puzzler, and Wordsheets 4.2 can be used in Wordsheets 5.x.
If you registered version 5.0 or 5.1, there is no charge to upgrade to version 5.5, simply download the new version and install it. It will use your 5.0 registration.

How To Purchase Wordsheets