Quality and Integrity in everything.




Qualint
1692 E 6765 S
Salt Lake City, UT 84121

info@qualint.com
Voice: 866-290-1599 (Answering machine)


The Principles
Qualint is family owned and operated. We chose the name Qualint because we want our business to be based on principles of Quality and Integrity.
In our view, software should be high quality. It should work reliably and as advertised. When bugs are found, they should be fixed and the fixes made available at no charge.
We desire to be honest in all our dealings, to act with integrity, to never take unfair advantage. We also desire to provide good service and to be considerate and respectful in all situations.
Our intent is to have these values permeate our products and our activities. If you see an area that you feel doesn't live up to these principles, please make us aware.
The People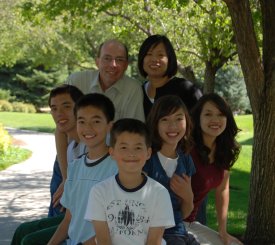 We are the Croft family.
Darren has a Masters Degree in Electrical Engineering from Brigham Young University (BYU) in Provo Utah. He has been publishing software since junior high school. Bih-Shya has a Bachelors degree in Secondary Education from BYU.
Darren and Bih-Shya met in Provo while attending BYU. We quickly grew to love each other and were married in the Salt Lake Temple of The Church of Jesus Christ of Latter Day Saints. We believe we have been sealed together as husband and wife for eternity. We are thankful for this blessing, the blessing of children, and the many additional blessings of the gospel of Jesus Christ. We have found that living the principles taught by Jesus, and reiterated by ancient and modern prophets, helps us live happy, fulfilling lives. If you have questions or interest in learning more, please ask. We would be pleased to share with you the things that have helped us so much. You can also read FAQs and additional info about the Church of Jesus Christ.