All contents
Copyright 2000-18
by Qualint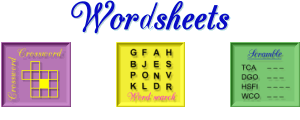 Main FAQ Download Samples Reviews/Comments Features Screen Shots
Purchase Pricing License System Requirements Information Sheet (pdf)
DOWNLOAD AND INSTALL WORDSHEETS 5.5
You can download and try the Wordsheets demonstration software at no cost. The demonstration version will print 10 worksheets. If you decide to purchase Wordsheets, you will receive a registration code and instructions. Once the demonstration version of Wordsheets is registered, you can print an unlimited number of worksheets and change or turn off the Qualint acknowledgment line.

Wordsheets v5.5 for Windows 95, 98, ME, NT 4.0, 2000, XP, 7, 10, 11
Click on WSWSetup.exe to start the software download.


Your browser may ask you what to do with WSWSetup.exe, choose Save. You may save in any directory you choose. Please note the directory.


After the download completes, if your computer displays a button labeled "Open" or "Run" or "Install" you can click that button to start the installation.


If you aren't given any of the above options, you can click on the WSWSetup icon (from the desktop or my computer, etc.), or continue with the following instructions:



Click the Start button, then click Run.


Type in the full path to WSWSetup.EXE.
Example: if in step 2 above you downloaded to c:\Program files\Netscape\dl you would type in:
c:\Program files\Netscape\dl\WSWSetup.exe

With the iso file you can burn your own Wordsheets installation CD. The WSWSetup.exe file above and the Wordsheets5.5.iso file install the same version of Wordsheets. You do not need to create an installation disk. This is just an option for the occasional customer who wants an install disk for a specific reason.
Click on Wordsheets5.5.iso to start the download.


Your browser may ask you what to do with Wordsheets5.5.iso, choose Save. You may save in any directory you choose. Please note the directory.


After the download is complete, try double clicking the .iso file. Depending how your software is configured, it may open your CD burning software ready to create a CD.


If double clicking does not work, start your CD burning software, and determine how to burn an image. (Do not simply drag the iso file into the file list. that will just burn the iso file as a file onto the CD. You want to burn a CD from an image file. This may be an option from the tools menu or file menu.)