All contents
Copyright 2000-18
by Qualint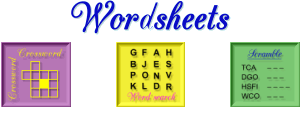 Main FAQ Download Samples Reviews/Comments Features Screen Shots
Purchase Pricing License System Requirements Information Sheet (pdf)
WORDSHEETS 5.5 SYSTEM REQUIREMENTS
One of the following operating systems is required:
Windows 95,98,ME,2000, XP, Vista, NT 4.0, 7, 8, 10
(We're sorry, but a Macintosh version is not currently available or under development.)
Recommended screen resolution: 800x600 or greater (640x480 is also supported)
Recommended color depth: 16bit=65,000 colors (256 colors is also supported)
A printer is required to print the worksheets -- any printer that works in Windows will work with Wordsheets 5.5



For machines not running recent versions of windows, Wordsheets v4.2 is available. It is a DOS program that runs well under Windows 3.1, MS DOS, PC DOS, and OS/2. Requirements for v4.2 are as follows:
DOS 3.3 or greater, Windows, or OS/2
480K available RAM
Hercules Mono, EGA, VGA
Laser, ink jet, or dot matrix printer
The following printer drivers are included with Wordsheets 4.2:
(Your printer is most likely compatible with one of these drivers.)

Laser Printers & Some Inkjet Printers
PCL mode (HP LJ compatible)
Postscript
HPGL/2 mode (HP LJ III & higher)
Newer Inkjet & 24 Pin Dot Matrix
Epson mode (LQ)
IBM Proprinter mode
Color Epson mode
Deskjet 500C (BW use PCL mode)
Older 9 Pin Dot Matrix & Inkjets
Epson/IBM Proprinter mode
Color Epson mode
PaintJet
Other
Plotters - HPGL mode

There are some printers sold as "Windows Only" printers. These are not generally compatible with Wordsheets v4.2, but they are completely compatible with Wordsheets v5.5.